Market had a sharp decline 2 months ago. We are well below 200 day average, and we have bounced off of 38.6% fibonacci retracement level a few times. Price support level has been holding well. Now the sentiment in the mainstream media is that this is a healthy pullback, a buying opportunity in the stock market. One needs to consider the big picture and ask the question: Have we seen the stock market bottom yet?
Here's why you SHOULDN'T get too comfortable
Bear markets are cunning beasts.
Don't get me wrong — we are not in the bear market territory yet. At least, not officially. But if this is the beginning of a bear market, then what we are seeing is a bear market rally.
An "official" bear market begins when the stocks indexes decline 20%. The DJIA's decline from the May 2, 2011 high to the September 21 low is about 17%. Close, but no cigar.
Add to that the strong rallies we've seen over the past few weeks (Sept. 12-20: +685 points in the Dow, for example) — and lots of people conclude that despite the volatility, things aren't so bad.
But let's get some perspective. The stock market has been around a while. Only when you look at its history do you realize just how cunning — and fast, and strong — bear markets can be. Past recessions and depressions have displayed examples of extraordinary bear market rallies before the prices hit the ultimate stock market bottom.
Here's a chart we've shown readers before. It's worth printing out and keeping on the wall above the desk where you open your brokerage statements.
This is the DJIA between 1930 and 1932, one of the worst bear markets in history. Robert Prechter, EWI's president, took the time to measure the percentage gain of each bear market rally during the 2-year period — you can see them in this chart.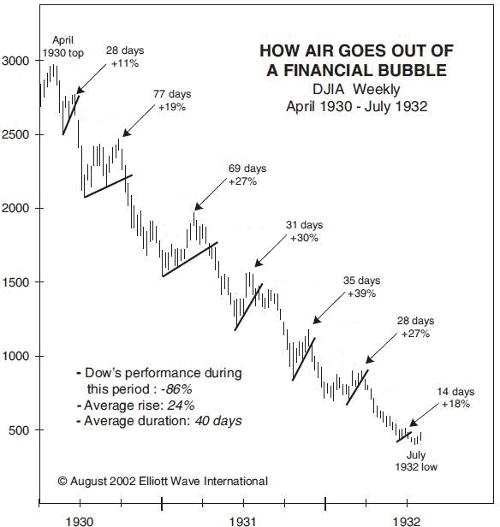 When you routinely see double-digit rallies (11 percent, 18 percent, even 39%) over the course of two or three years, it's easy to be lulled into thinking that maybe things aren't so bad. Here we are counting 7 bear market rallies some of which would make you feel like a bull market with is time length and price gain.
The reality, of course, is that the bear market's chokehold grows tighter around your neck with every drop-rally sequence. (Think back to the 2007-2009 collapse, and you'll remember the same behavior.)
Which brings us to here and now. Rallies and declines of 300-400+ points have been so common since August that we're kinda getting used to them.
The question is: Are we in a bear market, or is it that "maybe things aren't so bad"?
You need some perspective to answer that question. The research we do here at EWI can help.

Free Report: Stocks — Buying Opportunity or Another "Free Fall" Ahead?Find out what these market moves mean to your investments with current analysis from Elliott Wave International. Bob Prechter has just released a FREE report — with urgent analysis from his August and September 2011 Elliott Wave Theorist market letters, including another video excerpt from the special video issue of the August Theorist.

Stocks — Buying Opportunity or Another "Free Fall" Ahead? will help you put these uncertain markets into perspective so that you'll be better positioned to both protect your investments when needed and prosper when opportunities arise.