Years ago we used to hear the chatter about how OIL price is going through the roof because either the world is about to reach peak production or has already done so. There was talk of the world running out of OIL and the price would inevitable skyrocket and there was no going back as the world consumption kept going higher. The supply would never satisfy the demand according that theory. Fast forward to today, we are discussing whether we have enough storage capacity to store the excess oil. How did we get here? Was it all a surprise? An unpredictable twist?
Recall crude oil's dramatic 2008 price collapse. The high that year was in July at $147.50 a barrel. By December, the price had plummeted to $30.28.
This chart shows how Elliott Wave Theorist subscribers were warned ahead of time.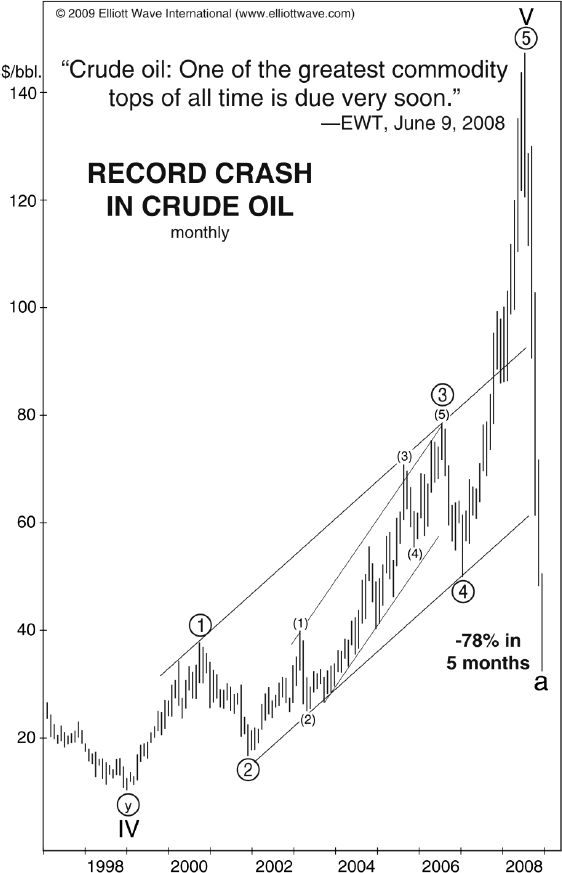 It was a few weeks before the top when the Theorist said, "Crude Oil: One of the greatest commodity tops of all time is due very soon."
Eventually oil did climb back above $100 a barrel. But it took two-plus years, and even then prices remained far below the July 2008 high.
Crude traded roughly sideways through June 2014. Then came another nosedive, and about nine months later crude was trading below $44 a barrel.
Once again, subscribers were warned weeks ahead of time. Here's what the May 2014 Theorist said:
"The multi-year outlook is for much lower prices."
After oil's relentless multi-month decline, the January 2015 Theorist said that "now that bearish conviction has crystallized, oil is likely to rally."
By May 5, oil's price climbed to just above $60 a barrel. Yet as our long-term analysis suggested, the bounce was relatively short-lived:
"US oil settles at a six-year low of $43.08 a barrel" (CNBC, Aug. 11).
Where are oil prices headed?
Well, one prominent financial observer has been consistent with his outlook for oil.
"Gary Shilling thinks the price of oil is going way lower. The economist and financial analyst wrote an op-ed for Bloomberg View discussing the various reasons why he thinks the price could get down to $10-20 per barrel" (Business Insider, Feb. 17).
Shilling is a deflationist. In an Aug. 3 tweet he reiterated his oil forecast: "Prices will drop even further."
As always, there are voices saying the glass is half full: The founder of a financial firm recently told CNBC that "Oil does not have much more of a downside left."
Time will tell which of these forecasts is correct.
Consider the bigger picture — namely the downtrend in other commodities (like copper). Think about the economic weakness in Europe and now China. Consider the record levels of global debt. Reflect on the ineffective stimulus efforts of central banks around the world. And finally, consider this excerpt from the July Theorist:
People who are afraid that deflation will lead to economic contraction are correct. That's why the subtitle of Conquer the Crash includes both words: Deflationary Depression. But the trip to the finish line is a zigzag path. Results don't show up overnight. What's happening now is nothing compared to what's coming.
"Peak Oil" — And Other Ways Crude Oil Fooled Almost Everyone
Remember "Peak Oil"? About ten years ago, it was a hugely popular theory "explaining" why oil prices would only go higher. They didn't. These excerpts from Robert Prechter's Elliott Wave Theorist highlight the flaws in the conventional approach to forecasting oil prices and show you a better method — a method that has done a remarkable job forecasting the future path of oil prices.
---
This article was syndicated by Elliott Wave International and was originally published under the headline (Video, 3:38 min.) Oil's Slippery Slope: How Far Will Prices Fall?. EWI is the world's largest market forecasting firm. Its staff of full-time analysts led by Chartered Market Technician Robert Prechter provides 24-hour-a-day market analysis to institutional and private investors around the world.