Gold and Inflation: Here's a Market Myth
"If you believe in Gold as a consumer price inflation hedge then…"
Back in the days of the Roman Empire, an ounce of gold could buy a Roman a well-made toga, belt and finely crafted sandals.
In modern day Rome, lo and behold, a businessman can become sharply dressed via the value of that same ounce of gold.
So, yes, gold has maintained its store of value over the centuries.
However, in the relative short term — which can last years — gold may not be the inflation hedge that gold bugs believe it to be.
In a moment, I'll show you how this relates to what's going on with gold and inflation now. However, let's first get insights from a chart and commentary from our February 2022 Global Market Perspective, which published when inflation was really getting going (The monthly Global Market Perspective is an Elliott Wave International publication which covers 50-plus global financial markets):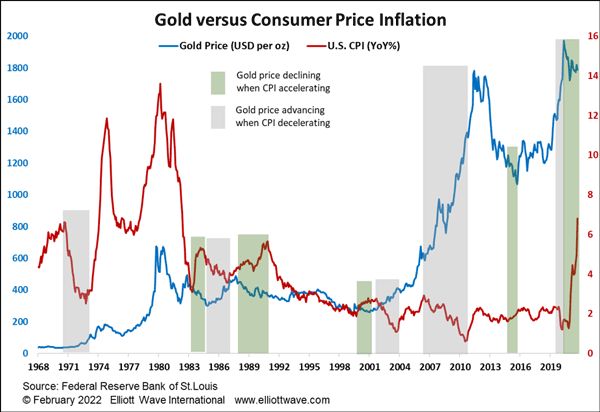 The chart shows the U.S. dollar price of Gold versus the annualized rate-of-change in the U.S. Consumer Price Index (CPI). If you believe in Gold as a consumer price inflation hedge then, as the CPI is accelerating, the Gold price should be advancing. The green shaded areas show that there have been five occasions since 1980 when the opposite was true, the last year being a good example. On the other side, the Gold-Inflation myth would allude to the price of Gold declining as CPI was decelerating. The grey shaded areas show five occasions since 1970 when this was not the case, 2007 to 2010 being a prime example.
Fast forward to today and we have these headlines:
US inflation eases grip on economy, falling for a 6th month (AP News, Jan. 23)
Inflation in U.S. could turn negative by midyear, says [this] billionaire investor … (MarketWatch, Jan. 28)
What's happened to the price of gold? It's steadily climbed in the face of easing inflation. Of course, this is just the opposite of what was occurring around this time last year. In both cases, the price of gold went in the opposite direction from what many would expect.
On Sept. 28, gold was trading at $1613.75 and has been in an overall uptrend since. The precious metal traded as high as $1949.46 on Jan. 26 (as of this writing on Jan. 30).
The bottom-line takeaway is that the widespread expected relationship between gold and inflation is not always there — indeed, there have been several instances in the past several decades where the opposite is the case.
Know that Elliott wave analysis, which is by no means a crystal ball, can nonetheless help you anticipate gold's next big price move.
If you're unfamiliar with Elliott wave analysis, read Frost & Prechter's Elliott Wave Principle: Key to Market Behavior. Here's a quote from the book:
The Wave Principle is governed by man's social nature, and since he has such a nature, its expression generates forms. As the forms are repetitive, they have predictive value.
Learn about these "forms" for free as a Club EWI member.
That's right — you can gain free access to the entire online version of this Wall Street classic by joining Club EWI — the world's largest Elliott wave educational community. A Club EWI membership is also free, and members enjoy complimentary access to a wealth of Elliott wave resources on investing and trading.
Get started right away by following this link: Elliott Wave Principle: Key to Market Behavior — get free and instant access.