March 2015 – The great "inflated" expectations for gold, oil, commodities have disappointed investors already — and now stocks are once again about to do it.
On January 21, one of the biggest financial lawsuits in recent history came to a costly end. The accused, ratings behemoth Standard & Poor's, agreed to a $1.4 billion settlement for "inflating credit ratings on toxic assets," thus accelerating and exacerbating the 2008 subprime mortgage crisis.
Settlement aside, there is a far bigger issue here than business ethics or conflicts of interests, which is not likely to get a hearing in the court of mainstream finance.
Which is: The professionals who are supposed to assess investment risks are no better at it than you or I.
Case in point: Think back to November 30, 2001. The world's largest seller of natural gas and electricity has gone from cash cow to dry bone. Its share price had plummeted 99%, from $90 to just under $1. YET– the company continued to enjoy an "INVESTMENT GRADE" rating.
The company's name: Enron. Four days later, it filed for the largest bankruptcy in U.S. history.
Enron seems like a distant memory, but what about the subprime mortgage debacle? Moody's rating service slashed the ratings of 131 subprime bonds due to higher than expected defaults, in July 2007 — two years after the market for non-traditional mortgages had already turned.
Spot a trend here? The "experts" failure to anticipate huge trend changes in companies, and in the overall economy. In the first edition of his business best-seller Conquer the Crash, EWI president Bob Prechter wrote:
"The most widely utilized ratings services are almost always woefully late in warning of problems within financial institutions. They often seem to get news about a company around the time everyone else does… In several cases, a company can collapse before the standard ratings services know what hit it."
So here's the question: What are the experts not seeing now that you and I need to prepare for?
What about gold? In 2012, with prices nearly reclaiming all-time high territory, the Federal Reserve's quantitative easing campaign was supposed to keep the wind at gold's back.
"Ben Bernanke has just offered gold investors a… gilded invitation to participate in the greatest secular bull market of our time." (April 14, 2012, Motley Fool)
Then this happened:
The same goes for the 2008 peaks in oil and commodities — two more "safe-havens" that were supposed to benefit from the Fed's money-printing campaign, but instead prices fell to lows not seen since the 2007 financial crisis.
So, that leaves the remaining outlier — equities, which have climbed to record highs. And, according to the experts, the path of least resistance remains up. A December 14, 2014 article in the New York Times:
"We don't see a lot on the horizon that could derail the U.S stock market in particular."
Our January 2015 Elliott Wave Theorist urges caution with this single chart of the S&P 500's year-end valuations since 1927. Every major peak of the last 90 years landed well outside the normal range: 1929, 1987, 2000, and 2007.
We believe the precarious placement of 2014 sends a similar message: "The stock market and the economy are not in a new multi-decade recovery as economists believe, but very late in a transition phase from boom to bust."
---
| | |
| --- | --- |
| | You still have a small window of time to prepare for a scenario most investors don't even know is possible — and now even more likely. |
Is Outsized Stock Returns the Norm?
Below is a chart that shows the historic returns, adjusted for inflation, for the UK market for the last 200 years. It speaks for itself. It looks like a bell curve which shows the highest probable return for the stock market is -2% to +4%. If your 401k is long heavily in stocks based on common wisdom of this age, you may be betting that the 1 in 15 chance on the very right edge of the graph will happen again.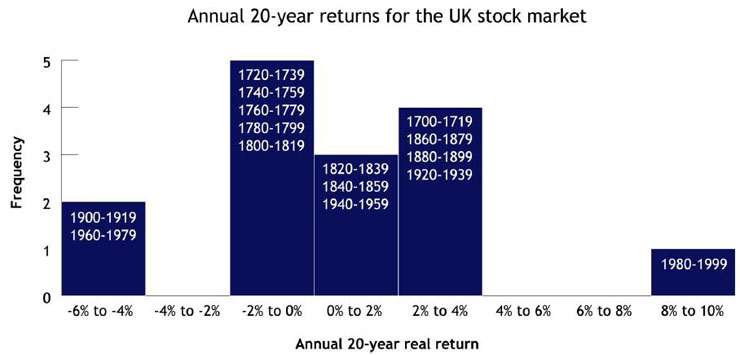 Stocks are still at historically high valuations. Despite major crashes after 2000 and 2007 tops we still have not seen valuation reset.
Prechter's book Conquer the Crash explains the normal valuations that typically appear at major market bottoms. It also explains what a market top looks like. It is a must read to understand how bubbles form and how they burst. To understand the big picture, please read below his insightful explanation about how big the stock bubble is.
In today's investment culture, average Joe, an individual of middle class is an investor. He takes a large portion of his money and typically puts in stocks and bonds in his 401K. This tendency has started in 1980s and continued at increasing speed to this date. The last 20 years of  20th century witnessed a major bull market. Huge gains were made and the crowd took it granted. It became the norm. One would put his money in stocks and enjoy comfortable retirement. But is it really so? Can we make such assumptions about market returns without doing our homework?  Financial markets always have and always will pose two basic questions that investors seek to answer:
What's the direction of the main trend?
How far will it go?
Systematic approaches to these questions commonly belong to either fundamental or technical analysis. Let's consider each one briefly.
Fundamental analysis studies how a market behaves in response to external influences such as earnings, sales, competitive outlook, economic outlook and the like.
Technical analysis studies a market's internal behavior — mainly price, but also internal measures like volume.
Elliott wave analysis is a branch of technical analysis, specifically pattern recognition.
In the 1930s, Ralph Nelson Elliott discovered that stock market prices trend and reverse in recognizable patterns…Elliott isolated five such patterns, or "waves," that recur in market price data.

Elliott Wave Principle: Key to Market Behavior (p. 19)
In a five-wave progression, the third wave is the most powerful.
Third waves unfold in bull and bear markets alike. Elliott Wave Principle (p. 80) describes a third wave in a bull market:
Third waves are wonders to behold. They are strong and broad, and the trend at this point is unmistakable…Third waves usually generate the greatest volume and price movement and are most often the extended wave in a series. It follows, of course, that the third wave of a third wave, and so on, will be the most volatile point of strength in any wave sequence.
Stock Markets Can Drop Like a Rock
Third waves can be more powerful during market declines because fear is a stronger emotion than greed.
Look at the third wave on this S&P 500 chart which published in the January 2009 Elliott Wave Financial Forecast. Notice that prices dropped like a rock, plunging well over 600 points in less than a year. (The third wave starts where the chart shows (2) and ends at (3)):
You can see on the chart that the S&P 500 had rebounded after the third wave had bottomed. Even so, the chart's title states that there was "Room for a New Low." Indeed, after the rebound which was wave (4), wave (5) took prices to a March 6, 2009 intraday low of 666.79.
How about now?
That depends on who you ask.
On July 10, CNBC reported on the sentiment of a chief market strategist of a capital management firm:
Ever the optimist, he is holding to his market call this year for the S&P 500 to hit 1,500.
A principal of a financial advisory firm and guest columnist for Marketwatch wrote a July 10 article titled "Stock charts don't lie: the trend is up." The article says:
Shares continue their winning ways, technically. The averages show a stair-step series of higher highs and higher lows, the definition of an uptrend.
By contrast, the latest Financial Forecast flat out says:
The stock market is nowhere near a lasting low.
Why does the Financial Forecast differ from the two opinions above?
Because Elliott analysts know that during a market downtrend, second waves can convince investors that the rally is a new bull market.
That can be a financially dangerous mind-set.
Optimism precedes third waves lower. Then, seemingly out of nowhere, a third wave can commence with unrelenting violence and speed.
In the chart above, you saw the optimism-driven rebound just before prices plunged.
Do not expect the financial media to provide you with advance warning of a third wave. The crowd is almost always on the wrong side of the market. Third waves arrive unannounced.
---
Learn How to Spot Third Waves and More – FREE!

The Elliott Wave Crash Course is a series of three FREE videos that demolishes the widely held notion that news drives the markets. Each video will provide a basis for using Elliott wave analysis in your own trading and investing decisions.

You'll get the Why, What, and How of Elliott Wave Analysis:

Video 1: Why Use the Wave Principle — a comprehensive look at what the financial media say drives the markets and why their "fundamentals" are usually wrong.
Video 2: What is the Wave Principle — explains in vivid detail the recurring "motive" and "corrective" patterns R. N. Elliott discovered in the DJIA in 1938.
Video 3: How to Trade the Wave Principle — real charts and strategies for position management, such as entry, stop, target and risk/reward assessment.
How Overpriced is the Stock Market?
Robert Prechter, New York Times best-selling author and renowned market analyst, was recently asked to present his thoughts on the real estate market and the financial crisis to the Georgia Legislature. The following article has been adapted from the transcript. Elliott Wave International has made the full presentation available free, including the full transcript and 30-minute online video.
By Robert Prechter, CMT
I'd like to try to answer a question: Are we near a low in the stock decline? Because in these times when stocks and real estate are declining together, they tend to bottom roughly together as well. So I want to take a minute and look at a valuation chart for the stock market.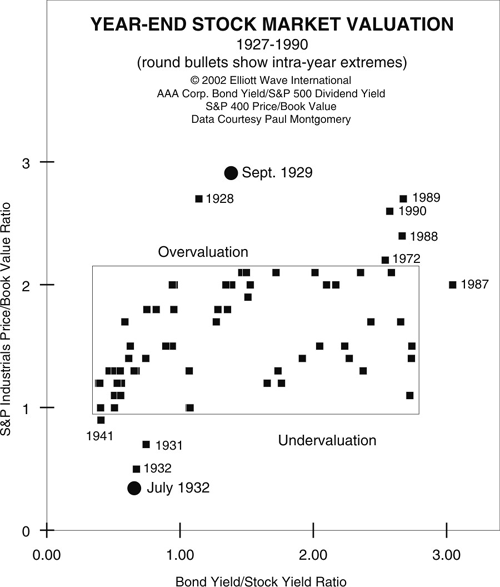 What we have here on the X axis is the bond yield/stock yield ratio for the S&P 400 companies. Sounds fancy, but all it means is that the further you go out to the right, the less companies are paying in dividends compared to what they are paying on their IOUs on their bonds. On the Y axis we have stock prices relative to book value. Book value is roughly equivalent to liquidation value, in other words, if you went and sold all the assets on the open market. When stocks get expensive, prices tend to rise relative to book value, and dividends tend to fall relative to the cost of borrowing. Why does that happen? At such times, people don't really care about dividends because they think they are going to get rich on capital gains. So dividend payout falls, and stocks get more expensive.
The small square boxes indicate year-end figures. The large box is a general area that has contained values for the stock market for most of the years of the 20th century. We had a few outliers: 1928 and August 1987, which preceded crashes in the stock market. And of course stocks were really cheap in the early '30s and again in 1941. If you are really astute, you have noticed something about this chart, which is that I've left off some of the data. It ends in 1990. What happened in the past two decades? Now I'm going to show you same chart but with the data from the last two decades on it. The March 2000 reading we call Pluto. Real estate wasn't so bad; I think it only got to about Neptune. But the stock market reached Pluto in March of 2000 in terms of the bond yield/stock yield ratio and the price multiple of the underlying values of companies. That's going to take quite awhile to retrace.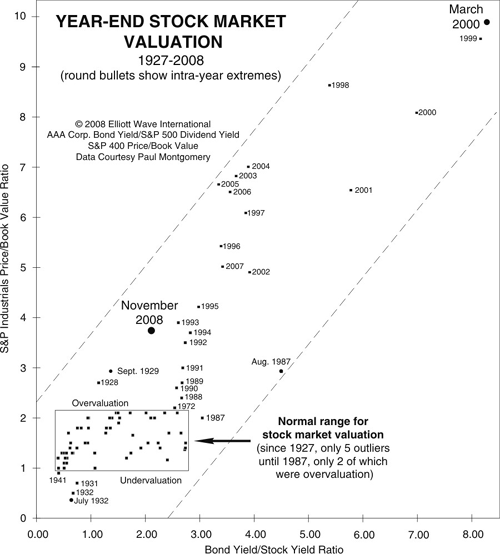 I've also plotted the reading for November 2008. The market has made quite a trek back toward normal valuations, but if you look at these multiples in terms of book value, we are at 4 times. It has to go down to 2 times to get back into the box, and we are getting there on the bond yield/stock yield ratio which means that the dividend payout is rising somewhat to catch up with borrowing costs. And because the S&P is down 45%, of course, the dividend payout as a percentage has gone up. But there is a problem there. If you're reading the newspapers, you know that companies have been cutting dividends. In fact, they've been cutting them at the fastest rate in half a century. So it is going to be difficult for values to get back to a normal valuation range. So the stock market has quite a bit lower to go in order to catch up with normal values, and this suggests that real estate may have the same sort of trend going on.
For more information, access Robert Prechter's full presentation to the Georgia Legislature, free from Elliott Wave International. It expands on the excerpt above with the full transcript, a 30- minute online video, and 12 additional charts and figures.
The Bear Market and Depression: How Close to the Bottom?
July 12, 2010
By Elliott Wave International
While many people spend time yearning for the financial markets to turn back up, a rare few have looked back in time to compare historical markets with the current situation – and then delivered a clear-eyed view of the future informed by knowledge of the past. One who has is Robert Prechter. When he thinks about markets and wave patterns, he goes back to the 1700s, the 1800s, and – most tellingly for our time now – the early 1900s when the Great Depression weighed down the United States in the late 1920s and early 1930s. With this large wash of history in mind, he is able to explain why he thinks we have a long way to go to get to the bottom of this bear market.
Here is an excerpt from the EWI Independent Investor eBook, which answers the question: How close to the bottom are we?
* * * * *
Originally written by Robert Prechter for The Elliott Wave Theorist, January 2009
Some people contact us and say, "People are more bearish than I have ever seen them. This has to be a bottom." The first half of this statement may well be true for many market observers. If one has been in the market for less than 14 years, one has never seen people this bearish. But market sentiment over those years was a historical anomaly. The annual dividend payout from stocks reached its lowest level ever: less than half the previous record. The P/E ratio reached its highest level ever: double the previous record. The price-to-book value ratio went into the stratosphere, as did the ratio between corporate bond yields and the same corporations' stock dividend yields.
During nine and a half of those years, from October 1998 to March 2008, optimism dominated so consistently that bulls outnumbered bears among advisors (per the Investors Intelligence polls) for 481 out of 490 weeks. Investors got so used to this period of euphoria and financial excess that they have taken it as the norm.
With that period as a benchmark, the moderate slippage in optimism since 2007 does appear as a severe change. But observe a subtle irony: When commentators agree that investors are too bearish, they say so to justify being bullish. Thus, as part of the crowd, they are still seeking rationalizations for their continued optimism, and one of their best excuses is that everyone else is bearish. This would be reasoning, not rationalization, if it were true.
But is the net reduction in optimism since 2000/2007 in fact enough to indicate a market bottom? For the rest of this issue, we will update the key indicators from Conquer the Crash that so powerfully signaled a historic top in the making. When we are finished, you will know whether or not the market is at bottom.
Figure 1 updates our picture of Supercycle and Grand Supercycle-degree periods of prosperity and depression. The top formed in the past decade is the biggest since 1720, yet, as you can see, the decline so far is small compared to the three that preceded it. There is a lot more room to go on the downside.
Figure 2 updates the Dow's dividend yield. Over the past nine years, it has improved nicely, from 1.3 percent to 3.7 percent, near its level at previous market tops. If companies' dividends were to stay the same, a 50 percent drop in stock prices from here would bring the Dow's yield back into the area where it was at the stock market bottoms of 1942, 1949, 1974 and 1982. But of course, dividends will not stay the same.
Companies are cutting dividends and will cut more as the depression deepens. So, the falling stock market is chasing an elusive quarry in the form of an attractive dividend yield. This is a downward spiral that will not end until prices get ahead of dividend cuts and the Dow's dividend yield goes above that of 1932, which was 17 percent (or until dividends fall so close to zero that the yield is meaningless).
Get the whole story about how much farther we have to go to a bear-market bottom by reading the rest of this article from EWI's Independent Investor eBook. The fastest way to read it AND the six new chapters in EWI's Independent Investor eBook is to become a member of Club EWI.
Tragicomic Story of Stocks
Here is the story of irrational exuberance in stocks in a few frames: