Will the Housing Bubble pop again? Have we seen the top in housing market once again? We will discuss the numbers and the irrational exuberance that took many parts of the word by craze.
July 2016 Update – An excerpt from Business Insider that rings the bell:
"… an endless influx of money from around the world via the startup boom that recycles that money into the local economy; endless and rapid growth of highly-paid jobs; and an endless influx of people to fill those jobs. That's how the booms in the past have worked. And the subsequent busts have become legendary.
The current boom has worked that way too. And what a boom it was. Was – past tense because it's over. And now jobs and the labor force itself are in decline."
San Francisco Housing Bust is Becoming Legendary
The article goes on to mention Manhattan bubble pop:
"Manhattan's condo glut also has taken on epic proportions. Sales of apartments in the second quarter dropped 10% year-over-year, to the lowest since 2009. And condo prices plummeted 14.5% in 3 months. Ugly!"
Is Housing At the Edge of Another Cliff?
Editor's note: You'll find a text version of the story below the video.
Time and again, we've said that financial markets do what they do despite the Federal Reserve.
When the central bank raised its key rate in December for the first time since 2006, many thought that would translate into higher mortgage rates.
Instead, mortgage rates are nearly as low as they've ever been. A Feb. 12 CNBC headline reads:
Mortgage rates could cross a record low
I recently talked to a real estate agent who suggested that today's low rates meant that it's a good time to buy a house.
But a historical review and other warning signs suggest just the opposite.
First, let's review a 2014 chart and comments from bankrate.com.
It's a common belief in real estate that house prices are correlated to interest rates. …

The problem with this belief is that, well, it's not true. In fact, there's no strong relationship between house prices and interest rates, according to [a vice president for Fannie Mae].
Indeed, the chart shows that the home prices fell off a cliff from 2006 through 2011 as 30-year mortgage rates also fell.
More than that, we only have to think back to this year's Super Bowl to get a reminder of the enthusiastic psychology surrounding the housing market just before the 2007-2009 mortgage crisis.
To people with fresh memories of the housing collapse, the most disturbing advertisement during the Super Bowl … was the one for the new Quicken Loans "Rocket Mortgage," which aims to make it easier to get a mortgage using a mobile device.

The New York Times, Feb. 10
Yes, get a mortgage with the touch of a button on your smart phone.
Here's what our February Financial Forecast has to say:
The return of subprime mortgages and "low-doc" loans, which are loans given to borrowers who do not fully document their income, signals renewed danger. The volume of these loans, known as "liar loans" back in the housing bubble's heyday, is nowhere near the extreme in 2006, but just a whiff of the lending practices that fueled the bubble is probably enough to indicate that … another leg down is at hand.
Now is the time to prepare for what we see just around the corner.
---
U.S. Recession: 3 Factors to Watch
As the markets have gone off the rails since the start of this year, the one persistent question market pundits have been trying to answer is: How likely is a recession in the U.S.? In this new report from the February issue of The Elliott Wave Financial Forecast, you'll see what our analysts are watching so you'll know how to plan your finances for the weeks and months ahead.
Evidence of Another Even More Sweeping Housing Bust is Already Starting to Appear
Editor's note: With permission, the following article was adapted from the October 2014 issue of The Elliott Wave Financial Forecast, a publication of Elliott Wave International, the world's largest market forecasting firm. You may review an extended version of the article for free in this link.
In February, The Elliott Wave Financial Forecast discussed the great boom in New York City's residential real estate and its keen resemblance to what happened in 1929, when the demand for luxury housing also spiked to previously unseen heights. At 133 East 80th Street, we found this plaque commemorating the earlier era's brick-and-mortar monuments to a Supercycle degree peak in social mood.
The plaque went up in 2010, demonstrating the strength of the bullish echo from the end of Supercycle wave (III) to the final after-effects of Supercycle wave (V). Another link to the prior manic era is that many of Rosario Candela-designed apartment towers from the 1920s have become "some of New York's most coveted addresses." As architectural historian Christopher Gray puts it, Candela is now Manhattan real estate brokers' "name-drop of choice. Nowadays, to own a 10-to 20-room apartment in a Candela-designed building is to accede to architectural as well as social cynosure."
Of course, the most brilliant stars in the New York skyline are those that sell for the highest prices, and that honor belongs to the brand new penthouses that the Financial Forecast talked about in February. Most are popping up along the rim of Central Park, forming a ring of cloud-topping towers that will be so pronounced it is already called Billionaires' Row.
Here is a short video that shows two of them as they were topped off in February.
The video helps illustrate our point from February: "As in the 1880s, the views and proximity to Central Park drive development, but the new buildings rise so high that the park's presence fades away."
As the Dow rallied to its September high, prices for space in these buildings also entered the stratosphere. According to Forbes, a penthouse apartment on the 89th and 90th stories of One57 (building at the end of the clip) sold for $90 to $100 million, a new record. In another building, 520 Park Avenue, owners are asking a record high $130 million for a penthouse, which will cap its top three stories. If they sell it soon — and they will have to if they hope to land that price — the developers should demand a big down payment. The Greatest Depression has yet to begin, but the evidence of another even more sweeping housing bust is already starting to appear. Bloomberg notes, for instance, that in the immediate vicinity of One57, three copycat buildings are "rushing" toward completion, and "some real-estate experts warn of an oversupply of luxury dwellings." Across the river in New Jersey, the story is the same: "Real estate officials are predicting the [market] is heading toward a glut" (NorthJersey.com, Sept. 21).
Meanwhile, the first whiffs of a renewed decline in single-family housing are also appearing. U.S. home prices increased at the slowest pace in 20 months in July. In the housing bellwether of Southern California, sales plunged in July and August. In fact, at less than 18,800 units sold, they were down 18.5% from a year earlier, the lowest total in four years.
The September Financial Forecast noted a similar August cratering for home sales in London, another global pacesetter. The top line on the next chart shows that the timing is about right, as British home prices have traced out a nice five waves in a rise that dates back to the early 1970s.
The lower panel on the graph shows inflation-adjusted prices in Britain and an even more pronounced rise in Canadian home prices. Now look at the red lines, which show the trend in Japan's home prices. These are the most important lines on the chart, as the Financial Forecast has long held that "Japan leads the way." Home prices in Japan have been falling steadily since the early 1990s. The chart shows that deflationary forces have come a long way but also have a long way to go. In due time, every major real estate market in the world should fall in with the downtrend in Japan.
Editor's note: For a limited-time, Elliott Wave International has unlocked an extended version of this article for non-subscribers to read completely free. Please follow the link here to read the rest of EWI's commentary about deflation spreading worldwide. Get the extended version of the article here – it's free.
---
Here are a few older posts about housing bubble and bust:
Real Estate Mania Is Back!
Home bidding wars in Washington D.C. – February 22, 2013
Home-bidding wars have erupted in Washington D.C., a reminder of the days of the real estate frenzy.
While much of the nation is still struggling to emerge from a historic housing-market meltdown, the District is reliving its boom days. High rents, low interest rates, low inventory, and a flood of new residents in their 20s and 30s are making parts of the city feel like it's 2005 again.

Washington Post, Dec. 20
The article mentions a run-down home within walking distance of Union Station. The list price was $337,000 –but 168 bids later it sold for $760,951.
Prospective home buyers have bid up other Washington D.C. homes; a resurgence of the old real estate mania is also evident in Seattle, Boston and Palo Alto, Calif.
Will these new, highest-bidder home buyers have the price rug pulled out from under them in the same way buyers did in the mid-2000s?
In March 2005, The Elliott Wave Financial Forecast plainly said the real estate market was a bubble about to burst. That issue presented a special section titled "The Real Estate Bust Begins." With the accompanying two charts below, the issue noted:
As shown in Figure 1, the transference of focus from stocks to property began four days after the NASDAQ's March 10, 2000 peak, when the S&P 500 Homebuilding Index bottomed. Since then, the index has soared to more than a 700% gain, which resembles the NASDAQ's October 1998-March 2000 ascent. … The five-wave pattern from 1990 in Figure 2 says that the January drop in home sales is the beginning of a much steeper long-term decline.
Remember, this analysis was published before the historic crash in real estate values.
Indeed, in most parts of the country, residential real estate prices remain well below their peak highs. Yet the resurgent bidding wars in some markets suggest that the lesson about bubbles remains unlearned.
Keep in mind what Robert Prechter wrote in the second edition of his book, Conquer the Crash:
"Real estate prices have always fallen hard when stock prices have fallen hard." (p. 152)
"At the bottom, buy the home…of your dreams for ten cents or less per dollar of its peak value." (p. 157)
Is it safe again to speculate in U.S. real estate? How should you handle loans and other debt? Should you rely on the government agencies to protect your finances? You can get answers to these and many more questions in Robert Prechter's Conquer the Crash. And you can get 8 chapters of this landmark book — free. See below for details.
---
8 Chapters of Robert Prechter's Conquer the Crash — FREE

This free, 42-page report can help you prepare for your financial future. You'll get valuable lessons on what to do with your pension plan, what to do if you run a business, how to handle calling in loans and paying off debt and so much more.

Get Your FREE 8-Lesson "Conquer the Crash Collection" Now >>
Why does the government subsidize housing?
Uncle Sam wants YOU to buy a house! And an expensive one! Seriously. That is the only game in town. Let me explain why.
When we borrow money, banks create brand new money. They do not lend existing money. Here is
how banks create money
:
This is called credit inflation. FED has been inflating credit for the last 50 years faster than GDP growth. This extra money in the economy makes it easier to earn it. People feel good. They forget that entire money supply is borrowed bank credit that needs to be paid back someday with interest!
This flood of money makes the current administration look good. Remember all the talk about "Affordable Housing"? And right after the government promised American dream come true, they made mortgage easy, and propelled the home prices. That is not really affordable housing. Now finally the home prices are coming down, and instead of celebrating that home prices are affordable they are trying to propel them up again. This is because uncle sam wants you to borrow money so that banks create money! As simple as that. The more you borrow, the better it is. This is the only tool that the government has to make it look like they are doing good.
This is why government subsidizes mortgages with interest deduction from income. That is a direct wealth transfer from renters / owners to the banks and makes it more attractive to buy expensive homes so that people borrow big, banks create money and inject it into the economy. That is why cash for clunkers. So that you borrow and buy a car. That is why 8K first time home buyer credit. This is why they allowed sub-prime. No 20% down. Liar loans were OK as long as you were willing to be a home owner (aka good citizen). Sounds like a good plan, right? Well, there is a limit to how much people can borrow. When the entire population reaches it's natural limit, the bust arrives and the same process reverses itself, and it is called deflation.
Click here for a free report on how to survive deflation and another one about the deflationary pressures we are facing.
The Japanese Home Prices
Deflation hit Japan had and they have been struggling with it for more than 2 decades now. Here is a chart that summarizes the Japanese experience: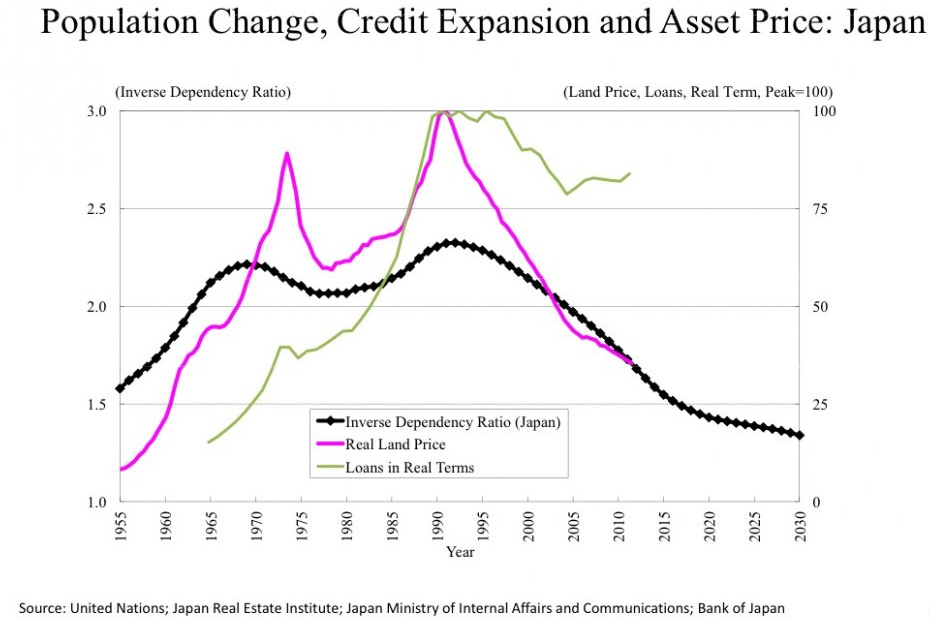 US Housing Crash
Since the real estate bubble popped in the US, housing market crash followed a very similar path in America. Home prices and credit expansion topped and then declined steadily under deflationary pressure: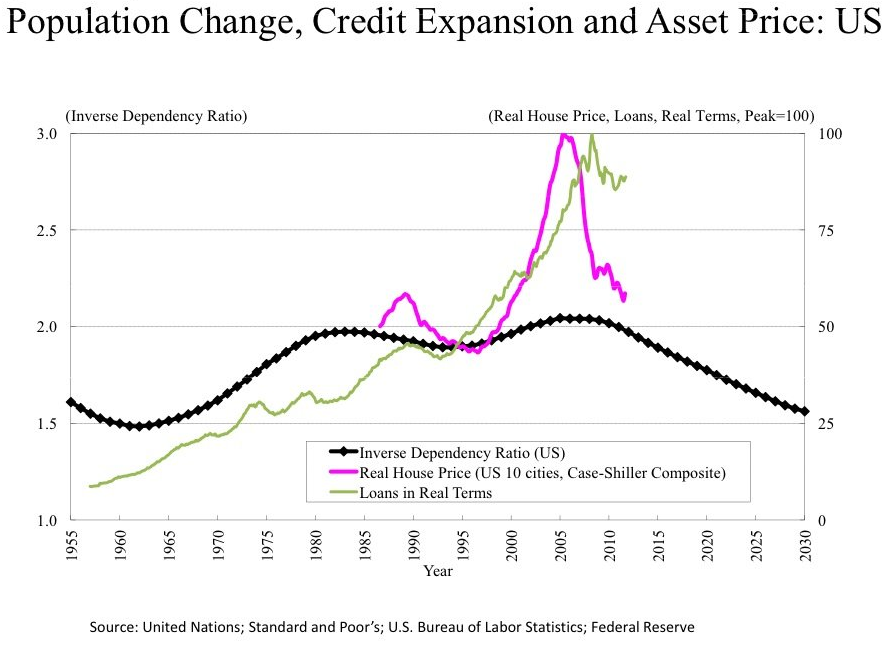 China Housing Bubble
It seems it is now China's turn to fly off the cliff and bear the burden of deflating credit and declining home prices: