Will the Housing Bubble pop again? Have we seen the top in housing market? We will discuss the numbers and the irrational exuberance that took many parts of the world by craze.
In Elliott wave terms, home price action of the last few decades display a complete 5 waves, and a decline has already visible in 2019. This will likely turn out to be a major crash, so stay tuned.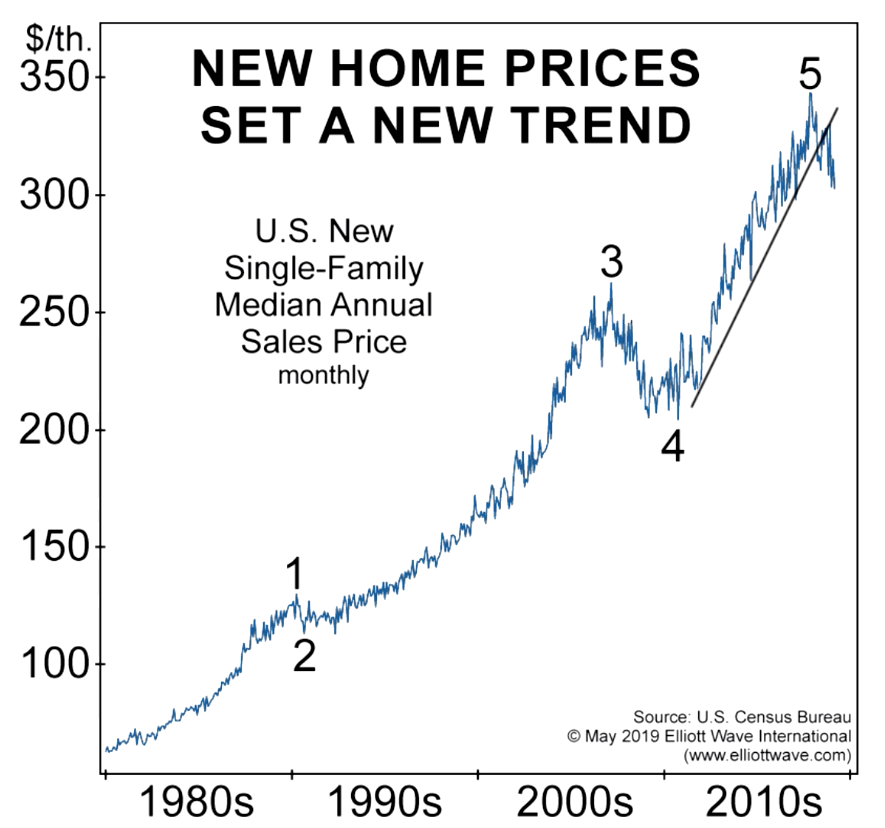 Back in November 2018, Deflationary forces already showed their ugly head. Home price decline is likely to follow Great Depression scale of disaster in the coming years.
A look at the Silicon valley / Bay Area housing market sheds a light on the bubble in 2018:
2018 End of Year Update:
In the Silicon Valley, due to the expanding tech bubble, demand was strong for the better part of the past decade. FED low interest policy made it easy to borrow. Buyers rushed to buy homes regardless of the price as long as they could afford monthly payments. Many of these buyers hold low rate ARM mortgages that will reset in the coming years and may face staggeringly high mortgage rates due to increasing FED rate. In 2019, the Federal reserve is ready to pull the rug underneath the financial markets.
Warning: As the sky high home values plunge, within a short few years we should expect home values go lower than 2009-2011 bottom.
Let us view the current evidence that indicates that a crash has started:
Inventory for sale has doubled from a year ago in Bay Area, California: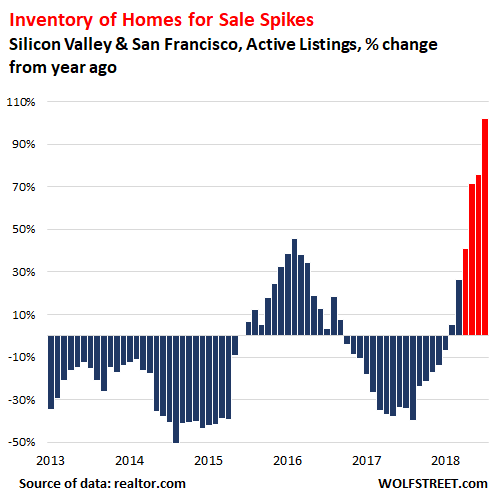 Housing price cuts more than quadrupled from a year ago:
Median asking price is down 10%: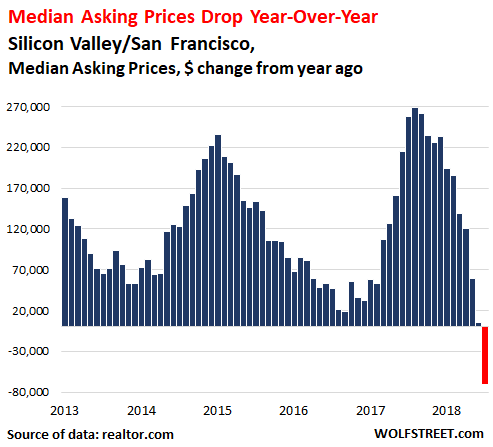 July 2016 Update – An excerpt from Business Insider that rings the bell:
"… an endless influx of money from around the world via the startup boom that recycles that money into the local economy; endless and rapid growth of highly-paid jobs; and an endless influx of people to fill those jobs. That's how the booms in the past have worked. And the subsequent busts have become legendary.
The current boom has worked that way too. And what a boom it was. Was – past tense because it's over. And now jobs and the labor force itself are in decline."
San Francisco Housing Bust is Becoming Legendary
The article goes on to mention Manhattan bubble pop:
"Manhattan's condo glut also has taken on epic proportions. Sales of apartments in the second quarter dropped 10% year-over-year, to the lowest since 2009. And condo prices plummeted 14.5% in 3 months. Ugly!"
February 2013 Update
Real Estate Mania Is Back!
Home bidding wars in Washington D.C. – February 22, 2013
Home-bidding wars have erupted in Washington D.C., a reminder of the days of the real estate frenzy.
While much of the nation is still struggling to emerge from a historic housing-market meltdown, the District is reliving its boom days. High rents, low interest rates, low inventory, and a flood of new residents in their 20s and 30s are making parts of the city feel like it's 2005 again.

Washington Post, Dec. 20
The article mentions a run-down home within walking distance of Union Station. The list price was $337,000 –but 168 bids later it sold for $760,951.
Prospective home buyers have bid up other Washington D.C. homes; a resurgence of the old real estate mania is also evident in Seattle, Boston and Palo Alto, Calif.
Will these new, highest-bidder home buyers have the price rug pulled out from under them in the same way buyers did in the mid-2000s?
In March 2005, The Elliott Wave Financial Forecast plainly said the real estate market was a bubble about to burst. That issue presented a special section titled "The Real Estate Bust Begins." With the accompanying two charts below, the issue noted:
As shown in Figure 1, the transference of focus from stocks to property began four days after the NASDAQ's March 10, 2000 peak, when the S&P 500 Homebuilding Index bottomed. Since then, the index has soared to more than a 700% gain, which resembles the NASDAQ's October 1998-March 2000 ascent. … The five-wave pattern from 1990 in Figure 2 says that the January drop in home sales is the beginning of a much steeper long-term decline.
Remember, this analysis was published before the historic crash in real estate values.
Indeed, in most parts of the country, residential real estate prices remain well below their peak highs. Yet the resurgent bidding wars in some markets suggest that the lesson about bubbles remains unlearned.
Keep in mind what Robert Prechter wrote in the second edition of his book, Conquer the Crash:
"Real estate prices have always fallen hard when stock prices have fallen hard." (p. 152)
"At the bottom, buy the home…of your dreams for ten cents or less per dollar of its peak value." (p. 157)
Is it safe again to speculate in U.S. real estate? How should you handle loans and other debt? Should you rely on the government agencies to protect your finances? You can get answers to these and many more questions in Robert Prechter's Conquer the Crash. And you can get 8 chapters of this landmark book — free. See below for details.
---
8 Chapters of Robert Prechter's Conquer the Crash — FREE

This free, 42-page report can help you prepare for your financial future. You'll get valuable lessons on what to do with your pension plan, what to do if you run a business, how to handle calling in loans and paying off debt and so much more.

Get Your FREE 8-Lesson "Conquer the Crash Collection" Now >>
Why does the government subsidize housing?
Uncle Sam wants YOU to buy a house! And an expensive one! Seriously. That is the only game in town. Let me explain why.
When we borrow money, banks create brand new money. They do not lend existing money. Here is
how banks create money
.
This is called credit inflation. FED has been inflating credit for the last 50 years faster than GDP growth. This extra money in the economy makes it easier to earn it. People feel good. They forget that entire money supply is borrowed bank credit that needs to be paid back someday with interest!
This flood of money makes the current administration look good
. Keep in mind, if the FED is not aligned with the US government, they can adopt reverse policies to make the administration look bad.
Remember all the talk about "Affordable Housing"? And right after the government promised American dream come true, they made mortgage easy, and propelled the home prices. That is not really affordable housing. When the home prices are came down in 2008-2011, instead of celebrating that home prices are affordable they adopted low interest rate policies to propel them up again. This is because Uncle Sam wants you to borrow money so that banks create money! As simple as that. The more you borrow, the better it is. This is the only tool that the government has to make it look like they are doing good.
This is why government subsidizes mortgages with interest deduction from income. That is a direct wealth transfer from renters / owners to the banks and makes it more attractive to buy expensive homes so that people borrow big, banks create money and inject it into the economy. That is why they offered cash for clunkers. So that you borrow and buy a car. That is why 8K first time home buyer credit was a in thing in the 2008 crash. This is why they allowed sub-prime. No 20% down. Liar loans were OK as long as you were willing to be a home owner (aka good citizen). Sounds like a good plan, right? Well, there is a limit to how much people can borrow. When the entire population reaches it's natural limit, the bust arrives and the same process reverses itself, and it is called deflation.
Click here for a free report on how to survive deflation and another one about the deflationary pressures we are facing.