Cryptos: Welcome to the "Lunatic Fringe"
A crypto hedge fund going all the way down to $0 is one way you know it's "a Grand Supercycle peak"
The bankruptcy of crypto broker Voyager Digital has been widely reported.
Now, another crypto investment "bites the dust."
This time — it's Three Arrows Capital (3AC) — a crypto hedge fund which went from "$10 billion to zero."
Here's a July 12 headline (Bloomberg):
Three Arrows Co-Founder Re-Emerges With Tweet Accusing Liquidators of 'Baiting'
The entire crypto market is down by more than $1 trillion since April.
Of course, Bitcoin is a big part of the crypto universe and its big decline since its November 2021 high of $68,906 has contributed substantially to that drop in the overall crypto market.
Bitcoin dropped all the way to $17,614 just in June.
And, speaking of Bitcoin's top, the November 2021 Elliott Wave Financial Forecast, a monthly publication which covers key U.S. financial markets, said this just five days before that top was hit:
Last month, the Elliott Wave Financial Forecast listed some of the many bull market milestones produced by cryptocurrency bulls over the course of 2021. This is the lunatic fringe of a Grand Supercycle peak. …
So, the decline of Bitcoin and the implosions in the world of crypto were not surprising to our Elliott Wave Financial Forecast analysts.
The Elliott Wave Financial Forecast continued to provide updates on the world of crypto, including the February issue in which this chart and commentary were provided: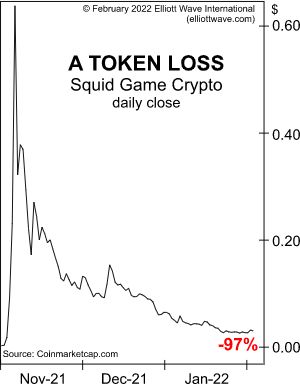 The Squid Game, a crypto coin based on the TV show of the same name, was another noteworthy issue EWFF covered at bitcoin's peak, as it had already crashed. … It then rallied to November 6, and this updated chart shows what happened after that; another 97% decline. But get this: The Squid Gamers are still bullish.
As of this writing on July 12, Squid Game crypto is trading even lower than it was in February.
The question now is: What's next for crypto investments?
The Elliott wave model provides a big clue.
If you'd like to learn how Elliott wave analysis can help you with financial markets, read Elliott Wave Principle: Key to Market Behavior, by Frost & Prechter.
Here's a quote from this Wall Street classic:
Without Elliott, there appear to be an infinite number of possibilities for market action. What the Wave Principle provides is a means of first limiting the possibilities and then ordering the relative probabilities of possible future market paths. Elliott's highly specific rules reduce the number of valid alternatives to a minimum.
No analytical method can guarantee a particular outcome in financial markets but given Elliott waves reflect the repetitive patterns of investor psychology, the knowledge those waves provide about the market's position within the behavioral continuum is extensive and second to none.
You may be interested in knowing that you can access the online version of the book for free once you join Club EWI, the world's largest Elliott wave educational community.
A Club EWI membership is free and allows you access to a wealth of Elliott wave resources on investing and trading without any obligations.
Just follow the link to get started: Elliott Wave Principle: Key to Market Behavior — get instant and free access.