A good economy is not necessarily bullish for the stock market!
Learn how you can get our FREE, 53-page State of the Global Markets report now >>
---
On Friday (Feb. 27), the 4th quarter U.S. GDP was revised downward to 2.2% from the original 2.6%.
"U.S. stock markets shrugged off the revision," wrote Fox Business. And why wouldn't they — after all, the conventional wisdom says that as long as the economy is growing, so will the stock market.
Except, it's not exactly true.
See, if that notion were true, then you'd have to assume that the U.S. economy was in a bad shape in 2007, when the stock market began its biggest decline since the Great Depression. But the facts show the opposite.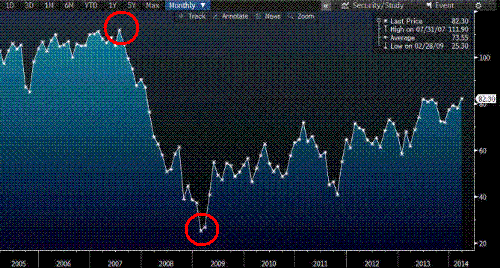 When the Dow topped in October 2007, key economic measures were in fact very strong:
In the quarter preceding the market peak, GDP expanded at 2.7%
Unemployment in 2007 was 4.6%
Consumer confidence was very strong, too (top red circle; chart: Bloomberg)
If a strong economy today means a strong stock market going forward, then stocks should have continued higher. They didn't. The Dow fell more than 50% over the next year and a half:
If you feel that's counterintuitive, then fast forward to early 2009. That's when we saw the exact opposite economic picture:
Consumer confidence fell to an all-time low (the second red circle on the blue chart)
GDP growth fell to a negative 5.4%
Unemployment rate more than doubled to almost 10%
Because of such terrible economic data, few mainstream economists were optimistic in early 2009. And yet the stock market bottomed in March of that year.
This reminds me of a quote from our monthly Elliott Wave Theorist:
"Suppose you were to possess perfect knowledge that next quarter's GDP will be the strongest rising quarter for a span of 15 years, guaranteed.

"Would you buy stocks?

"Had you anticipated precisely this event for 4Q 1987, you would have owned stocks for the biggest stock market crash since 1929.

"GDP was positive every quarter for 20 straight quarters before the 1987 crash — and for 10 quarters thereafter.

"But the market crashed anyway."
---
| | |
| --- | --- |
| | I invite you to read this free State of the Global Markets report to learn what's ahead for the U.S., European and Asian-Pacific stock markets. |