University students live in the lap of luxury
The U.S. housing market may be about to implode — again.
Before I get into the "why," know that the residential real estate market never fully recovered.
Annualized new home sales this past July stood at 507,000, vs. the July 2005 peak of 1.39 million. The chart and commentary from the August Elliott Wave Theorist offer: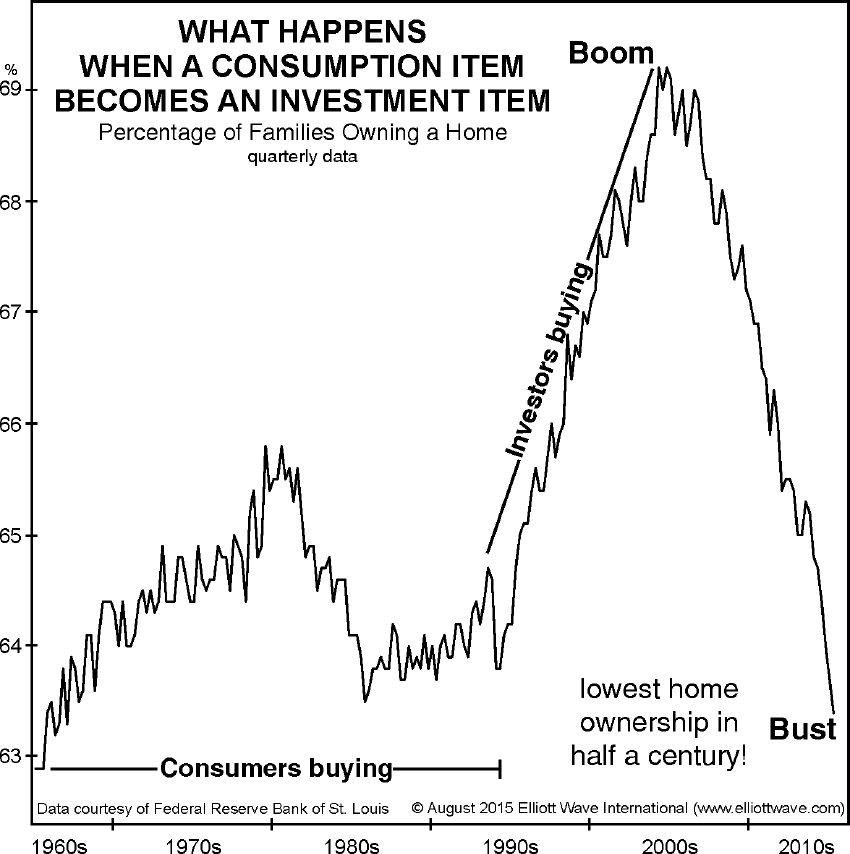 The percentage of Americans who own a home is still plummeting despite the partial recovery in real estate prices. Today, the percentage of families owning homes in America has plunged to its lowest level in 48 years, nearly half a century. … By saddling home-buyers with massive debts, the government has done the opposite of what it promised; it has ruined the American Dream for tens of millions of families. Now it's doing the same thing to education … .
Yes, U.S. student loans amount to some $1.2 trillion. Yet the new on-campus trend is luxury student housing.
A few weeks ago, a friend showed me around the campus of a private university and I saw the upscale student apartments. Next to the apartments was even a bigger-than-usual Starbucks.
I thought the luxury student housing at this university might be unique.
Then I read that some property development companies are dedicated to high-end, urban-style student housing:
Landmark [Properties], like other student housing developers, is profiting from ever-growing demand … . Landmark grew 40 percent even during the recession and is plowing ahead with several new projects.

The Standard, a high-security building [at the University of Georgia], offers students luxury apartments with granite countertops in the kitchen and en suite bathrooms for each bedroom. … What really draws attention, though, are the added amenities. The pool, fitness center, saunas, game room with large-screen televisions and even a golf simulator.

CNBC, September 3
Here you have evidence of a bubble in both housing and education.
Reminders of the real estate boom days can also be found elsewhere. A headline (CNBC, September 10) says:
Investors snapping up new homes for rentals
Specifically, institutional investors are buying properties for real estate investment trusts.
Be wary of such investments: The May Elliott Wave Financial Forecast reveals why housing is probably headed for another crash: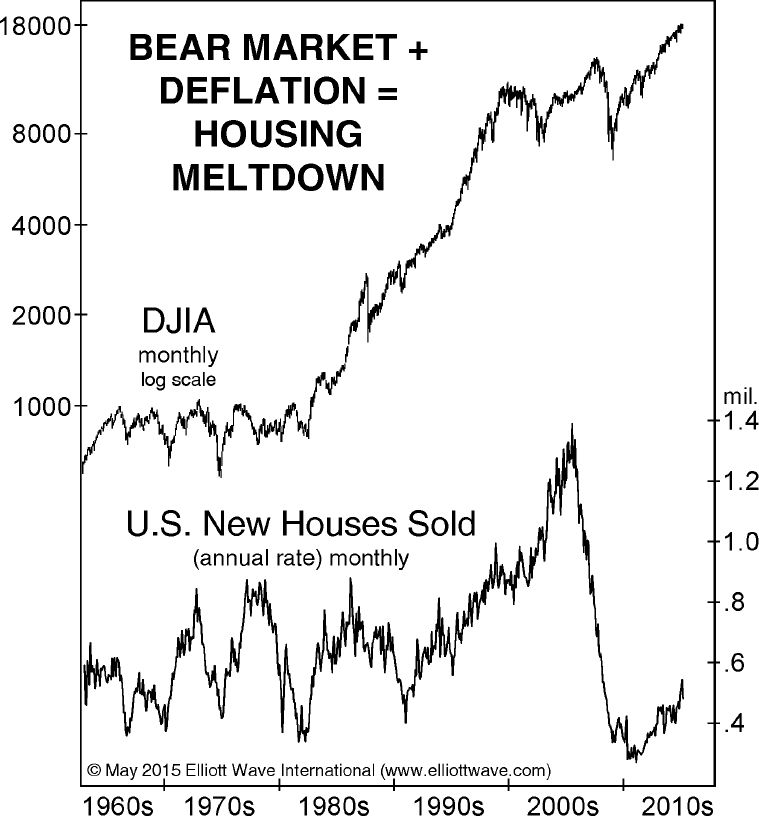 New home sales generally fall in bear markets. With the added impetus of a brief deflation, home sales plunged dramatically in 2008/2009. The current recovery has barely managed to return sales to prior lows. After the major stock averages reverse and an even more aggressive bout of deflation takes hold, U.S. real estate will join a global decline that will be even more severe than the last one.
That's just the beginning of what's ahead for Real Estate. Want to read the full story? Check out the link below to get the entire August issue of Robert Prechter's Elliott Wave Theorist — FREE
---
If you invest in U.S. stocks, please stop what you're doing, sit down and pick up Robert Prechter's Aug. 19 investment forecast. Prechter published one of the most widely read investment letters of the 1980s, and he remains one of the most widely known market technicians in the world. On Aug. 19, before the latest spike in volatility, he warned of "pandemonium in the stock market" and a "stunning decline in US stock prices." Now you can read his complete, subscriber-level report that predicted what you see today.

Click Here to Download Prechter's 10-Page Report Now – It's FREE >>