Money Manager Startles Global Conference.
History shows that the U.S. should pay attention to economies in Europe.
The economy has been sluggish for five years. There's no shortage of chatter about "why," yet few observers mention deflation. Bernanke has been printing trillions. ECB and Bank of Japan has joined the reflation efforts and promised to print to achieve inflation, but inflation is nowhere to be seen. There is some price movement in credit dependent sectors such as housing, mainly fueled by hope and greed to
not miss the bottom
. But this can also reverse and leave scars for investors and home owners. After so much money printing, and extending the FED's book to unprecedented levels, why is inflation not happening? Are we not supposed to have hyper inflation by now? Why is gold and silver crashing at a time when it is supposed to be their moment of victor against the evil paper currency called the US dollar?? Most people thought and still think inflation is our destiny.
One exception is a hedge fund manager who spoke up at the recent Milken Institute Global Conference.
The presentation by Dan Arbess, a partner at Perella Weinberg and chief investment officer at PWP Xerion Funds, was startling because of how deeply it broke from the standard narrative.

We've been wrong to assume that the economic crisis is over, Arbess said. … The threat of deflation is once again rearing its head.

"The persistent risk in our economy is deflation not inflation," Arbess said.

CNBC, May 2
Deflation appears to be more than a threat. Consider what's already happening in the U.S. and in Europe.
Industrial production declined in April by the most in eight months, indicating American manufacturers will provide little support for an economy beset by weaker global markets and federal budget cuts.

Bloomberg, May 15

Europe is slipping further into recession.

The euro zone economy shrank more than expected in the first three months of 2013 … as France returned to recession for the first time since 2009 and Germany barely edged forward.

It marked the longest recession for the euro countries since the currency was introduced in 1999.

New York Times, May 15
Here's a relevant fact: The Great Depression of 1929-1932 started in Europe before coming to America.
The economic wave may be much bigger this time.
Robert Prechter made this observation:
Total credit will contract, so bank deposits will contract, so the supply of money will contract, all with the same degree of leverage with which they were initially expanded.

Conquer the Crash, second edition, p. 111
EWI published this chart in March 2012.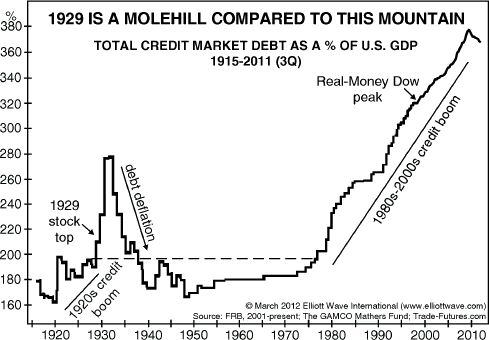 The enormous credit expansion that started in the early 1980s is due to be leveled.
You can prosper during the next economic contraction. Many people did just that during the Great Depression. Robert Prechter's New York Times bestseller, Conquer the Crash, can teach you what you need to know to protect your portfolio during these high-risk financial times.
For a limited time, you can get part of Conquer the Crash for free. See below for more details.
---